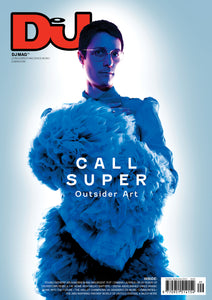 Sometimes, out at the perimeter, outsider art is the most interesting of all. Call Super is one such outsider artist. It's one of the ways they define themselves in our cover story this issue, expertly told by DJ Mag's Eoin Murray (page 76 onwards).
It's the right time to spotlight Call Super, a hugely talented DJ/producer who can rock a house/techno club set one night, and produce the most delicate and intricate electronica the following week, such as their latest album 'Eulo Cramps'. It's their moment to shine.
Also this issue, Neil Kulkarni meets Edinburgh trio Young Fathers, one of the contenders for this year's Mercury Prize (page 93); Joe Roberts chats to Damian Lazarus of Crosstown Rebels to mark the 20th anniversary of his pioneering label (p100); Ria Hylton visits Defected-affiliated tastemaker Melvo Baptiste at home in Watford (p110); we hear all about the new album by Paris-based DJ/producer Deena Abdelwahed, which merges Arabic tradition with modern electronic production (p119). And a lot more besides. Hope you enjoy the issue.
A final word. Our community is vast and multifaceted, and tolerance of others should remain rooted at the heart of our international scene. One sub-genre of electronic music or a certain type of DJ may not be your cup of tea, but there's room on the spectrum for everybody. It's horses for courses: if you don't like one artist, surely you'll find something nourishing to takeaway from the next few you investigate. And remember, respect that our scene was birthed in Black and LGBTQ+ communities. Peace!
Carl Loben
Editor