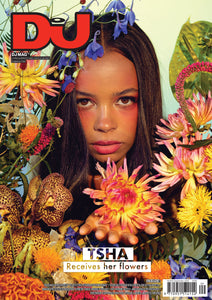 Howdy, I hope everyone has had a great summer, full of music and dancing and laughter. It's been the hottest summer in the UK and beyond for many years — how long is it going to last? Surely not till after Christmas? Our cover star for this September issue is TSHA, whose new album on Ninja Tune is called 'Capricorn Sun' — named after her birth sign, which falls at the end of December and covers most of January. TSHA's emotive and musical album belies some of her more club-ready DJ sets, but is sure to push her even further up the rankings into the upper echelons — a position she thoroughly deserves. It's time for her to get her flowers.
In our cover story, TSHA talks openly about the pressures of DJing and the scourge of online trolls (page 52 onwards), while elsewhere this issue, we feature ace producer and vocalist Sudan Archives (p69) and filmic beatmaker Kuedo, who releases on FlyLo's Brainfeeder label (p75). We spend time at home with modular techno musician JakoJako (p103 onwards), talk to Patrick Topping about Trick, this month's Vital Label (p127), and lots more besides.
Hope you enjoy this issue, put together by your ever faithful DJ Mag team in the sweltering heat.
Carl Loben
Editor