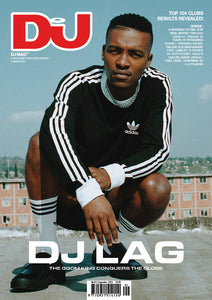 Electronic music is always morphing and throwing up new styles, which is why it remains forever fascinating. The 4/4 monolith is no longer the dominant force everywhere; music involving broken rhythms can often be more dynamic, interesting, funky and fresh.

When innovative new styles emerge — such as gqom and amapiano outta South Africa in the last decade — the tendency for some Western producers can be to sample it, co-opt it. Clearly, what producers, DJs and promoters should do instead is play, listen to, celebrate and book the original artists — and definitely not rip them off. This is what American pop mogul will.i.am did with DJ Lag's 'Ice Drop' a year or so ago — and faced an immediate worldwide backlash. Ironically, the 'Ice Drop' furore united South Africa's music community behind DJ Lag, at a point when he wasn't receiving so much love back home due to his international touring commitments and success.

DJ Lag has a new album coming soon, and what I'd urge every DJ Mag reader to do meanwhile is check out some gqom — if you haven't already. Lag's Boiler Room set from 2017 is a good place to start, as is reading up about it. The gqom pioneer's story is superbly told by Jessica Kariisa for our cover feature this issue, beginning on page 18.

Elsewhere in this mag we have features on the effect of electronic music events continuing in India over the past year of the pandemic (page 99); we celebrate Tresor in Germany's 30 years of pioneering techno (p111); we look at how delays at pressing plants are putting the squeeze on small independent vinyl labels (p32); and reveal the results of our global Top 100 Clubs vote (beginning on page 39). Where have your favourites finished up in the list this year?
Carl Loben
Editor