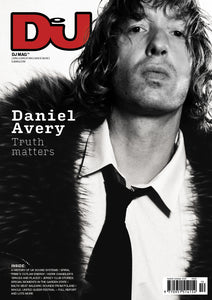 ADE is back this month (see page 6), which will be a great thing to behold. Although the world's biggest and most important electronic music conference was back last year in a limited capacity, 2022 is where it returns in full effect — back firing on all cylinders.
The fact that the daytime events will be based around the Felix Meritis building again will bring seasoned ADE goers a warm glow. 2022 has been a strange and sometimes difficult year, with cost-of-living price rises and event cancellations throwing spanners into a lot of works. The road out of the pandemic was always going to be long and winding, but it feels like  the industry has finally turned a corner now and our beloved scene is returning to something resembling normality. What lessons have we learned, though?

Daniel Avery is someone who has learned a few life lessons over the past decade or so. As Anna Wall teases out of him in our cover story (page 20), he's not had the smoothest ride since his great friend Andrew Weatherall died and the world started going pear-shaped. It's a timely catch-up with the techno maverick on the eve of his fifth album, dropping imminently on Erol Alkan's Phantasy Sound imprint.

Elsewhere this issue, we've a detailed look at the genesis of UK sound systems (page 38); we meet some of the key artists who have helped mould the Jersey club scene in the States (p49); we chat to some of the prime movers behind renegade sound system crew Spiral Tribe, 30 years on from the infamous Castlemorton free festival (p61); we interview house legend Kerri Chandler about the unusual way he's put together his new album, by recording all the tracks in his favourite clubs internationally (p69); look at the Balearic sounds coming from Poland's Baltic coast (p77), and lots more besides.
It's another jam-packed issue, and I hope you all enjoy it.