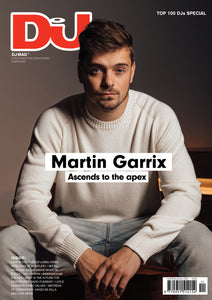 We've a new winner of the Top 100 DJs poll this year — Martin Garrix won three times from 2016-18 and has now leapfrogged over David Guetta to claim the top spot once again. So it's a huge congratulations to Martin, one of the most talented and well-adjusted artists in the international scene.
Garrix played his winner's set from on top of the iconic Empire State Building in New York, the centrepiece of DJ Mag's five- hour Top 100 DJs broadcast special that went out on Thursday 27th October to announce the results. Other DJ sets on the night came from Charlotte de Witte (Highest Techno DJ), leading China-based DJs BEAUZ, South America's No.1 ALOK, plus special award winners Layla Benitez (Future Star) and DJ Paulette (Lifetime Achievement). Not holding the awards at ADE for the first time in a decade allowed DJ Mag to ensure that the show was diverse and reflected the values of DJ Mag as a publication, plus it enabled us to shine a light fully on our charity partner UNICEF. Read the Top 100 DJs news reports from page 18 onwards, and then check out all the placings in the poll from page 53 onwards.
Elsewhere in the mag, we've interesting features on the cost- of-living crisis and how it's impacting clubland (page 32). As winter begins to bite, please try to ensure that you support your local artists and venues as much as you can over the next few months. We've also great pieces on the funding of independent radio (p40), the wealth of dance music from Wales (p141) and many, many artist profiles in this special bumper issue. Hope you all enjoy it.