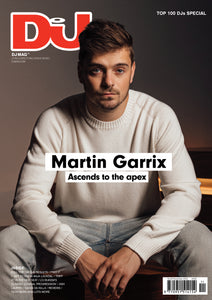 Martin Garrix in Top 100 DJs shocker! Well, Garrix displacing David Guetta at the pinnacle of our reader-driven poll isn't really all that much of a surprise — after all, the Dutch phenom came in second place last year, and is one of the few artists, Guetta being another, who have won three or more times. But the fact that Garrix is still in his 20s makes the achievement doubly impressive — the accomplishments he's racked up since 2013's electro-house stormer 'Animals' boggles the mind. It's been a massive year for the young producer in a career full of them, and Carl Loben caught up with him to find out how he's kept that career revving along in high gear.

Garrix played his winner's set from on top of the iconic Empire State Building in New York, the centerpiece of DJ Mag's five-hour Top 100 DJs broadcast special that went out on Thursday, October 27, to announce the results. Other DJ sets on the night came from Charlotte de Witte (Highest Techno DJ), leading China-based DJs BEAUZ, South America's No.1 ALOK, plus special award winners Layla Benitez (Future Star) and DJ Paulette (Lifetime Achievement). Congratulations to everyone on the list — you're all superstars in our book, each and every one of you.

The Top 100 DJs poll skews toward dance music's biggest names, but this issue puts the focus on a wide swathe of the rest of clubland as well. Take Fred P, for instance — the deep house doyen, who's one of the best there is at crafting the kind of emotionally resonant music that works as well on the dancefloor as it does in the headphones, has come out of the pandemic with a newfound sense of purpose. The same could be said for Giolì & Assia, the Italian duo whose recent 'Fire Hell And Holy Water' sees the pair perfecting their melodic blend of electronics and live instrumentation. New Jersey's Cakes Da Killa, meanwhile, raps his way through some of the best music of his career via the new 'Svengali,' while Norway's Anja Lauvdal's 'From A Story Now Lost' brims with some of the most soul-stirring ambient music imaginable. That's just scratching the surface of what you'll find in this issue — read on.
Bruce Tantum
Editor