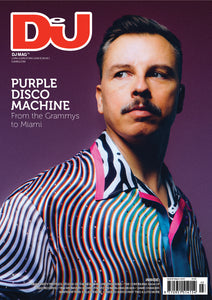 It's the month of Miami Music Week (MMW), where much of the international dance music industry gathers for ad-hoc networking and a plethora of fantastic next-level events. From daytime pool parties such as DJ Mag's one at the Sagamore — headlined by this issue's cover star, Purple Disco Machine — to carnival events such as Paradise and Get Lost at Factory Town right up to the Ultra Music Festival behemoth, there really is something for everyone.
As well as looking forward to key MMW events, this issue we ask the DJs playing our pool party for their Miami tips for attendees, and dip into the Miami underground with some of the city's less mainstream purveyors of electronic music.
In amongst lots of other new artists profiled in the mag, we've also got an in-depth piece on the scandal surrounding Chicago label Trax Records (page 87). Dating back to the mid-1980s, Trax was crucial to the formation of the flourishing international scene that we know and love today. 'Move Your Body', 'Your Love', 'Can U Feel It', 'Acid Tracks' and many other early anthems were hugely important in the development of house music, yet the producers of those tracks — Marshall Jefferson, Vince Lawrence, Robert Owens, Larry Heard, DJ Pierre and  so on — didn't so much as receive a dime in royalties: then or since. The industry may have operated a bit more like the Wild West back then, but that's no excuse for not paying these pioneering Black producers what they were due. It's time to right this wrong.
Carl Loben
Editor