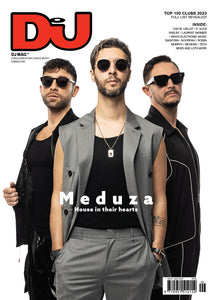 It's the age-old question for any dance music artist who's reached a high level of commercial achievement: How do you reconcile that success with a love of the music that got you there in the first place? How do you keep one foot in the mainstream and another in the underground? Some, of course, simply ignore the issue and go straight for the gold — but others do their best to reconcile their two sides.
Of course, not many of those producers have had the same kind of meteoric success that Luca De Gregorio, Mattia Vitale and Simone Giani, collectively known as Meduza, have had, with global smash hits, stratospheric streaming numbers and massive headlining gigs to their name. But their first love is good old-fashioned house music, and through festival stage takeovers, a new label and more, the trio is doing their best to find fulfillment in both worlds. DJ Mag recently caught up with De Gregorio, Vitale and Giani in their Milan studio to fill us in.
Chloé Caillet hasn't had to deal with that dilemma — not yet, at least — but the way her career has been going lately, who knows? In the past few years, the Paris-by-way-of-NYC-and-the-UK DJ and producer, now firmly entrenched in Ibiza, has amassed a succinct but brilliant discography of house-leaning productions and remixes — including a mix for Beck, of all people — served as a resident at DC-10, launched a queer collective with a party at Pacha called XTRA, and most recently dropped her debut 'Intro' EP, among her other endeavors.
And speaking of superclubs, this month's issue serves as our annual Best Clubs extravaganza, as voted by the readers — from No. 1 to No. 100, we take a look at your favorite party palaces. A dive into the Iranian electronic-music diaspora, interviews with Laurent Garnier, Nooriyah, Akua and others, our usual top-tier array of reviews and tech news — your early- summer beach reading, as you rest up for your next night out, is set.
Bruce Tantum
Editor