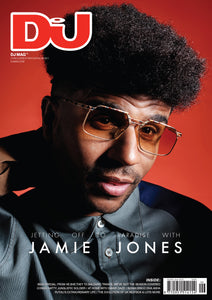 Ibiza is back in business, which is a great relief to many. After a two-year pandemic-enforced shutdown of all the main clubs, opening parties have been occurring at most of them lately — and all reports suggest a thirst for club culture on the White Isle with more intensity than seen for years. Ibiza is a magical place if you know where to look, and it's great to see it — and much of the rest of the international clubbing landscape — return to some sense of normality in most instances.
It's also a pleasure to have Jamie Jones on the cover of our UK issue for the first time this month. Jamie is absolutely at the top of his game at the minute, with big tunes doing the rounds on Defected and Hot Creations, and he's about to kick off his season of Paradise parties in Ibiza at a new venue this year. After eight years at DC-10, Paradise is moving into the original superclub, Amnesia, every Wednesday for the next few months for what is sure to be an unforgettable run. Jamie's unstoppable journey from East London after-party grafter to international superstar is brilliantly told by Anna Wall this issue, starting on page 22.
Elsewhere we spotlight all the other Ibiza highlights in the coming season from page 41 onwards; profile original junglist soldier Congo Natty, who's made such an important contribution to the scene (p68); visit Miami bass DJ Danny Daze at home (p80); document the history of beatboxing in the UK (p73), and a helluva lot more besides. It's another jam- packed issue, and I hope you enjoy it.
Carl Loben
Editor