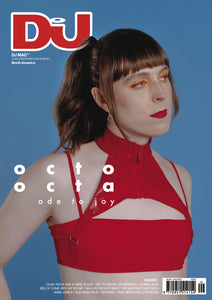 Everyone's life is a journey. For Maya Bouldry-Morrison, better known as the DJ and producer Octo Octa, that journey has perhaps a few more twists and turns than it has for most. From moving from New Hampshire to Brooklyn and back again, and evolving from a nerdy kid playing Dungeons & Dragons to becoming one of the world's best purveyors of house- and rave-kissed rhythms, her life has been defined by change. A little over half-decade ago, she came out to the world as a trans woman — and since that milestone, her music, which already felt as though it was brimming with bliss, has become even more joyful, imbued with the kind of dancefloor euphoria that's hard to resist. In this issue, Bouldry-Morrison took some time out of a packed DJing schedule to talk about her music, her life, her transcendently fulfilling partnership with Eris Drew — and mushrooms, too.
OLAN is no stranger to life's arcs, either. Growing up in a conservative military town outside Fort Benning, Georgia, the musician, vocalist and producer didn't come out until her early 20s; since time spent in Las Vegas and an ongoing collaborative friendship with Mat Zo, she's become a staple of the Anjuna family of labels, and her rich and emotive productions are about to get its fullest airing yet with the release of her debut album, 'Contra.' In this issue, the ascendant artist, born Luzana Flores, talks about her music, her fears of being pigeonholed, her wish for further diversity in the dance-music realm and more.
As always, there's plenty more to check out in these pages, including conversations with Hot Creations cofounder Jamie Jones and NYC's own Martinez Brothers, who fill us in on their summertime Ibiza residencies. You'll find chats with Barcelona house savant Lis Sarroca and the aurally adventurous UK spinner Josey Rebelle, a look back at Norma Jean Bell's classic 'Come Into My Room,' tons of reviews and tech news, and plenty more to get you ready for the summer party season.
Finally, just a quick reminder that June is Pride Month! From the Loft and the Paradise Garage in NYC, to the Trocadero Transfer in San Francisco, to the Music Box and Warehouse in Chicago, dance music culture's LGBTQ+ roots are powerful, and they're as strong today as ever — and that's something worth celebrating all year long.
Bruce Tantum
Editor