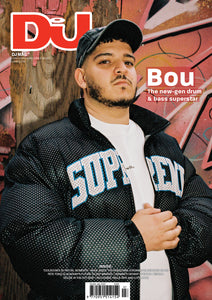 Drum & bass is everywhere. Since it first emerged in the '90s, the sound has birthed numerous sub-genres, influenced countless artists, gone global, gone commercial, and gone full circle. In 2023, it feels in ruder health then ever before — on all levels — and one of those ensuring its future remains bright is this month's cover star, Bou. The Manchester upstart has become known for his electrifying DJ sets and standout productions, which span the spectrum of dancefloor-ready d&b, from bonkers jump-up to headsy rollers and beyond. We find out how he went from skatepark misfit to hometown hero from page 84 onwards.

Elsewhere, we have another d&b legend, Goldie, in the Hot Seat to talk about his 'Timeless' remixes project (p71); the Toolroom gang celebrate 20 years of top-notch house and techno (p103); we meet the winners of the Pete Tong DJ Academy's first Future Talent Awards (p113); learn how lots of new UK DJs are utilising open decks events to get started (p117); and report back from events in Jordan (p125), Scotland (p140) and Ukraine (p145).
Our annual Top 100 DJs poll launches this month on Wednesday 5th July. It's still the world's biggest music poll and your chance to shout about the best DJs you've seen in the past year. To have your say, scan the QR code below or head to vote.djmag.com. Or if you're in China go to djmagvote.cn. Voting closes on 13th September, so don't miss out!
Ben Hindle
Deputy editor