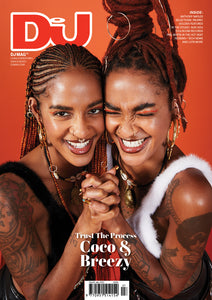 It's that time of year when the open-air party possibilities seem endless. Backyard shindigs, rooftop soirees, festival-size throwdowns...preferably all with a soundtrack of thumping bass and whipping snares. Sorry, neighbors!
A new tune that would sound particularly awesome in the great outdoors is 'Off My Mind,' a gospel-tinged, piano-led stormer that's the latest from the twin-sister duo of Coco & Breezy. Dedicated to their late father, it's perhaps the pair's best song yet, and will undoubtedly add a zillion or so new converts to their burgeoning fanbase. The story of how they got to this point is far from ordinary, from creative kids in the Minnesota suburbs to eyeglass designers with a clientele that includes Lady Gaga and Rihanna, to budding DJs in the New York party scene to spinning superclubs in Ibiza, is theirs alone — and Coco & Breezy recently sat down with DJ Mag to tell the tale of how it all happened.
Everyone's got their own tale to tell, of course, and Thomas George Stell — better known as the mask-sporting Golden Features — has a biography that's led to 'Sisyphus,' a rugged new album that takes in various threads of the raving world and weaves them into a glorious whole. On the opposite end of the sonic spectrum, there's 'orbs,' a subtly uplifting and graceful release from the never-miss producer Anthony Naples. In this issue, we speak with both of them to find out more about how their respective stories led to the music that they've been making.
Speaking of outdoor partying, we'll take you on a trip to Glasgow's Riverside festival, where the likes of SHERELLE, Denis Sulta and AceMoMA were holding it down; then, it's down to Kyiv, where the fact that the Strichka Festival went off for the first time since 2021 proves that community and music remain necessary parts of our lives, even during wartime. A look at Amman, Jordan's performance and events space MNFA, a visit with Toolroom Records as they celebrate 20 years filling the world's dancefloors, reviews, tech news and more await.
Bruce Tantum
Editor