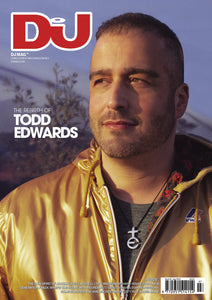 We're delighted to have Todd Edwards on the cover of our July mag this month. Older headz may already know about the profound influence Todd had on the emergence of UK garage back in the '90s, not to mention his appearance on two separate Daft Punk albums twelve years apart. Those French robots clearly recognised his influence too, and it's a nice touch that Todd is wearing a Daft Punk gold jacket for our cover shoot with him — and bringing his bunny rabbit, Q-Tip, out for the shoot too!

Now that Todd is back with new tracks, a 'House Masters' mix comp via Defected, and has the whole of his back catalogue available digitally, it's time to celebrate him all over again. But what few will have known is the mental health issues Todd has experienced during his career. His story is delicately told by Gabriel Szatan from page 18 onwards.

Also this issue we extensively profile a couple of scene legends, Joe Claussell and Dego, and the immense contribution they continue to make to our scene (pages 35 and 51 respectively); look at the prospect of events opening up on the party isle of Ibiza (p44); chat to the Tidy Boys ahead of this summer's Tidy Weekender, to see how a new generation is getting into hard house (p61); and much, much more. Hope you enjoy it.

As this issue was about to be sent to the printers, the UK government announced the postponement of the lifting of lockdown measures in England (see page 6) — with no additional support mentioned. This is obviously a huge blow to the whole of our industry: there must be financial assistance for venues who still can't open after more than 450 days of being shuttered, not to mention all the DJs, support staff and freelancers who have been so badly hit by pandemic hardship and STILL aren't getting paid yet.

Many events were preparing to open soon after June 21st, often with Covid-safe measures such as pre-entry testing in place, but now the waiting game continues. Many of the people involved in events are our friends, work colleagues, artists, and industry associates, and they MUST be supported.
Carl Loben
Editor