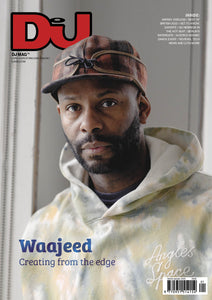 It's the start of a new year, and a time for new beginnings. At least that's what we tell ourselves — in reality, many of the big plans we make fall to the wayside, and we just keep on keeping on, stumbling our way through life, hoping to make the most of what comes our way. (Or is that just me?) Anyway, there are plenty of hardworking individuals who create their own change, who make big plans and follow through on them, and Detroit's Waajeed is a prime example. Over his storied career, and through the places and spaces and sonic worlds he's inhabited — from serving as Slum Village's DJ while still a teen, to his time as one half of Platinum Pied Pipers, to a hugely varied solo career — he's never been afraid of change, or to do what's needed to keep pushing things forward. His recent 'Memoirs of Hi-Tech Jazz,' an ode to both the musical heritage of his hometown and to the greater Black experience, was one of the best albums of recent months, but lately much of his psychic energy has been towards what might be the biggest project of his life: the Underground Music Academy. We caught up with the ever-evolving artist to find out more.
After his grueling 2022 touring and production schedule, Tom Marshall, better known as the progressive house producer Marsh, is ready to make a few changes of his own — namely, to slow down just a bit, and to spend more time at home in Ohio with his spouse and two kitties. Of course, with a new album coming out next month on Anjunadeep, the road beckons, but the British-born artist is determined to find the right balance.
We're starting the year with lots more, too. Anglophiles will be happy to see the results of the annual Best of British awards, with the worthy likes of Eliza Rose & Interplanetary Criminal, Fred again.., Girls Don't Sync and XL Recordings taking the trophies; Berlin clubbing aficionados will enjoy reading about how Watergate has been leading the way for over two decades; those who favor blissful pop-tinged dance music will eat up our conversation with Kinder. As always, there's tons of reviews, tech news and more — we're kicking 2023 off with a bang.
Bruce Tantum
Editor