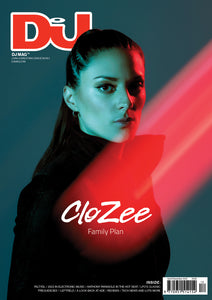 Well, that year certainly sped by, didn't it? The past 12 months feel like
a hazy swirl — which may be due to the fact that 2022 was the year that nightlife and festivals finally came roaring back to something close to pre-Covid levels, at least in spirit. (Financially, it might be a different story, as more than a few DJs, promoters, clubs and fests are still feeling the pain of the pandemic.) The continued comeback hasn't been perfect, and at times it's been a bit messy — but that's always been the case in the clubbing life, hasn't it? One thing that stays consistent is the music itself, and the past year has seen a bumper crop of amazing tracks and albums come our way. In this issue, your intrepid team of DJ Mag writers run down their favorites.

The Paris-born, Toulouse-bred, Denver-based bass artist Chloé Herry
has certainly had herself a glowing year, not to mention an entire glowing decade. Through her own stellar productions and rather awesome performances, she's positioned herself at the center of the world bass community, and her Odyzey Music label and Voyage festivals have become a family home for a colorful cast of characters that includes Tripp St., GRiZ, NotLö and Wreckno. Megan Venzin recently caught up with the globetrotting artist to discover about how she's gotten to where she is, her efforts to make bass music a welcoming space for all, and what's in store for the coming year and beyond.

Elsewhere in these pages, FaltyDL explains why, on his new 'A Nurse To My Patience,' he's traded in his experimentally-minded dance music for a sound that's decidedly less clubby, but still undeniably beautiful. Techno's Anthony Parasole hasn't switched gears quite so drastically on his own new album — but the release, credited to Full EFX, marks the kind of aural evolution that keeps electronic music fresh. There's a conversation with Neil Barnes of the mighty Leftfield, a look at pop's influence on club music, Gold Panda's rundown of the music that got him to where he is today — and lots more, including pages and pages of reviews and tech news. Happy holidays, everyone!
Bruce Tantum
Editor