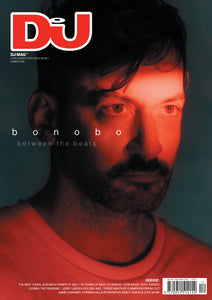 December is upon us — where did that year go? In one way it feels like 2021 has whizzed by, and in another — thinking back to the early months in lockdown — it's crawled by everso slowly. However it has been for you, I hope 2022 brings better fortune.
This issue we look back at some of our favourite tunes, albums and compilations from the last 12 months. There may not have been a great deal of events during the first part of the year, but there's been a consistent flow of great quality electronic music. Everyone has their own favourites for a variety of reasons; an assortment of DJ Mag writers itemise theirs from page 36 onwards.
Bonobo is on the cover, an artist who has truly benefitted from the long-term investment into his career by label Ninja Tune. From a beatfreak making ethereal leftfield tunes, he's blossomed into a fully rounded artist who can sell out London's prestigious Royal Albert Hall three nights in a row. His trajectory is expertly mapped out by DJ Mag's Ben Murphy from page 18 onwards.
Elsewhere, we raise a glass to Back To Basics, the Leeds clubbing institution that's celebrating 30 years in the game (p28); look at the impact of the pandemic on music technology companies (p56); speak to some night-time champions about navigating a difficult year (p64), and plenty more besides.
If you're within reach of London on Thursday 16th December, it's our Best Of British awards at the Steel Yard venue in central London that night. Yes, the de facto UK dance music industry Christmas party is back in real life. Hopefully see you there, and have a great festive period and a happy new year!
Carl Loben
Editor