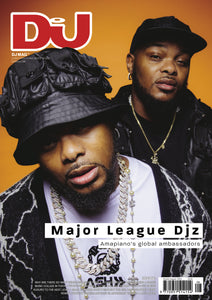 Have you checked out any amapiano music yet? Aficionados are already citing it as the sound of the summer. If you're new to this sub-genre of electronic music — a kind of South African take on deep house with intricate percussion, bouncy bass and melodic keys — then a good place to start is the DJ Mag HQ live stream from Major League Djz, this issue's cover stars. Currently sitting at over 275,000 streams on YouTube worldwide, it was the latest recorded set to follow the weekly Balcony Mix sessions that the Major League twins developed during lockdown.
In the stream and in their sets in Europe lately, Banele and Bandile make concessions to Western crowds by dropping in the odd house or R&B re-edit to hook people in. You can totally understand how they've rocked DC-10 a few times in Ibiza already this summer, and have effectively been positioned as global ambassadors for the sound. They may not have been the first to pioneer amapiano, but they've picked up the baton and run with it. DJ Mag's Ria Hylton expertly tells their story from page 84 onwards, and speculates about just how far amapiano can cross over.
Elsewhere this issue, Harold Heath follows up his widely acclaimed Neurodiversity article from last year by asking why there are so many neurodivergent people in the electronic music community (page 111); we spotlight eight Angolan and Portuguese artists currently pushing forward the sound of kuduro (p123); ask whatever happened to the chillout room (p129); and a helluva lot more besides. Hope you enjoy this issue as much as we've enjoyed putting it all together.
Carl Loben
Editor