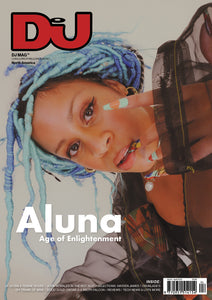 Just as the pandemic looks might be receding — though, as of press time, the BA.2 variant was a worry — another of the world's never-ending afflictions, war, rears its ugly head. Our hearts go out to all of those who are suffering in Ukraine, to those displaced by the war, and to everyone affected by the many other conflicts across the globe. Music may not be enough to overcome the madness of war, but it can certainly be a salve for troubled times.
The UK's Aluna Francis knows that better than most: Music provided an escape from the difficulties of growing up as one of the few people of color in a nearly all-white town. She cycled through a series of band gigs, culminating with a successful run as one half of AlunaGeorge and, for the past few years, as a solo artist, releasing the wondrous 'Renaissance' album in late 2020.
Along the way, Francis discovered two things: The mainstream music industry is full of built-in racism, and dance music has a rich black (and queer) history that's still unknown to many. She's acting on those realizations with the new Noir Fever festival; DJ Mag caught up with Francis, now based in LA, to find out more. Female representation is another ongoing issue in dance music, and through her Femme House initiative, the DJ and producer LP Giobbi is aiming to do something about it. Megan Venzin headed to a Femme House session in Boston to learn more about the project — and picked up a few Ableton Live skills along the way.
There's lots more inside as well, including chats with the veteran remix pioneer John Morales and the one-time mashup doyen Girl Talk, who's nowadays is fully immersed in the world of hip-hop. We look back at the Oscar G & Ralph Falcon's 1998 opus 'The House Music Movement,' forward to rising talent Silent Child, and talk to the Yoruba label's Osunlade about his DIY ethos. Reviews, fashion, tech news and more — your month is covered.
Bruce Tantum
Editor