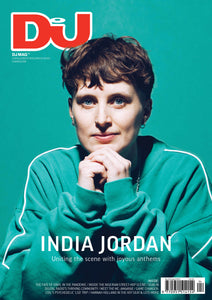 It's been the strangest of years, not being able to experience music collectively — one of the basic foundations of our culture. Some DJ/producers have said they've found it difficult to continue making dance music when there have been no dancefloors in real life — although with green shoots on the horizon, that has started to change.
Someone who seems to have had no problem continuing to craft refreshing bangers is India Jordan. India — who self-defines as genderfluid or non-binary, and so uses the pronouns 'they/ them' — produced one of the standout tracks of 2020, 'For You', which topped many end-of-year lists for good reason. Sampling mid-'80s disco slow-jam 'You Are My Melody' by Change, it infected our home-listening soundtracks with a genre- traversing joie de vivre.
Now India's new five-track EP on Ninja is set to blow them up all over again. Showcasing their refusal to stick to one style, the 'Watch Out!' EP boasts the lysergic rush of 'Feierabend', Radio 1-approved uplifting-yet-mournful house track 'And Groove', and some alternative techno and hardcore bizness. The title track itself just feels primed for a rave-driven summer of love as we ease out of this COVID-imposed isolation hellhole.
India's cover feature begins on page 20, while elsewhere in the mag there's plenty of other goodness to read too. We look at the fate of vinyl during the pandemic — and with Brexit starting to make an impact — on page 32; get inside the Nigerian street- hop phenomenon on page 39; hear how Dublin Digital Radio has fostered an experimental electronic music community in Ireland (p46); and a lot more besides. Hope you enjoy!
Carl Loben
Editor