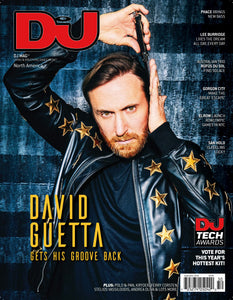 Digital Edition
It was nearly seven years ago when I last interviewed David Guetta for a major magazine – the man who represents the first chapter of EDM's all-time peak, or perhaps its existence altogether. 
I recall the buzz of accompanying the larger-than-life EDM superstar to New York's enormous electronic music event, Electric Zoo, like it was yesterday. 
The rush of it all - being whisked from Guetta's SoHo hotel straight to the festival's artist entrance in a mafia-esque black SUV, guided through a crowd of crooning industry folks backstage, and at last, pushed onto the stage just moments before his set. I can still feel the awe of seeing the crowd's flickering lighters meet the beaming LED screens, strung around Randall's Island like Christmas lights, as the sun began to set on the former juvenile delinquent reform school site. I can perfectly picture David Guetta stepping onto the main stage for his performance before 35,000 dance music devotees looking like a sea of neon-clad ants going mad at the sight of him. 
As I make my departure from DJ Mag, writing the editor's letter for the last time, I realize how apropos it is that the Frenchman covers this final issue. As he gears up to release his first album in seven years, titled – you guessed it – '7' (pg. 22), it rounds out the cycle of music, life and my own tenure guiding the DJ Mag North America ship, in balanced harmony. 
I will see you all again soon, as the next chapter unfolds. 
SARAH POLONSKY
EDITOR