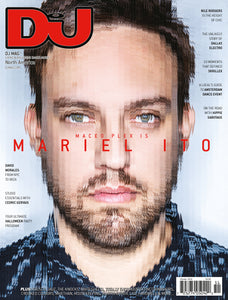 Digital Edition
REBOOT AND RELOAD Our October issue is jam-packed with fabulous long-reads, sassy opinion pieces and fascinating tech. First up, we focus on two of the biggest events on the international party calendar: Halloween and Amsterdam Dance Event. The former we've covered extensively with a huge four-page listings guide that gives you the low-down on all things spooky Stateside this Halloween season. Head to page 64 to check it out.
Over on page 54, we've also chalked up the best places to eat, sleep, rave and relax at this year's ADE - including in-the-know tips from DJs, producers and industry folk that live in the 'Dam year-round. Our cover star Mariel Ito - aka Maceo Plex, aka Eric Estornel - will also feature heavily at this year's ADE, giving him a chance to perform under his freshly-revived electro alias, which has seen him secure a landmark release on Renaat Vandepapeliere's legendary R&S Records. It's a testament to the power of reinvention, something DJ collective HOUSEKEEPING are also doing over on the White Isle with their fun-loving, unpretentious parties (page 81).
Speaking of parties, we've tripped out to the best events all over North America in the last month, including pit-stops at Canada's Shambhala festival (page 78), the 10th anniversary of New York's much-loved Electric Zoo (page 86) alongside Elements Music & Art Festival (page 76).
As usual, we've also got stacks of tremendous tech news and reviews to devour, including an investigation into how the advent of streaming in the booth will change DJing forever.
See you on the ADE dancefloor!