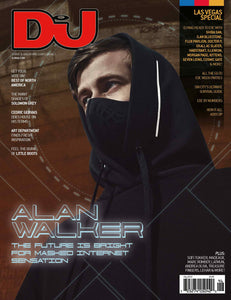 Digital Edition
MAKE THE MIRAGE
Las Vegas. A city of excess built in the middle of a desert. The experience can make you insane, hyperactive, exuberant, rich, poor, miserable, exhausted and generally, all of the above... in the blink of an eye. DJ Mag arrives in Sin City this EDC Week armed with a survival guide (pg. 43), party listings (pg. 47) and interviews with this year's acts (pg. 52). Basically, this issue is packed with everything you need – minus the gambling stakes – to make your Vegas 2018 roller coaster ride a thrilling one.
Alan Walker knows all about thrills. When it comes to the Norwegian 20-year-old, his story is more like a web-driven rocket launch – directly into stardom. Like winning the jackpot of DJ chips, Walker can count the cards of global digital communication. Without a pit boss in sight, he comes out on top every time, reaping billions of streams on social media, digital gaming deals and real-life gigs across the world (pg. 20). Combine this with a dash of luck thrown in for good measure and therein lays the key to this month's cover star's success.
For some artists, it's less of a straight shot. Check out the final nominees for our second-ever Best of North America awards (pg. 7). It's DJ Mag's way of paying homage to the underground titans of dance music whose methods to making music for a living require far more than a simple roll of the dice. With that, I'm proud to say, the vote for this year's Best of North America is open!
Take action, DJ Mag readers. Be it by rocking the vote, dominating your niche like Alan Walker, or planning your EDC Week like a pro – we have the fundamentals covered. The rest of this party is on you to make it less desert and more magical mirage.
SARAH POLONSKY
EDITOR