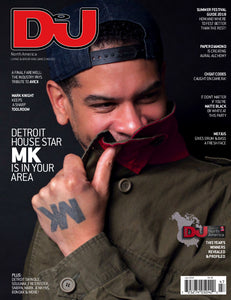 Digital Edition
Remember that epic DJ Mag pool party from 2016 during Miami Music Week? Anyone? No? To clarify, it was the year when MK hit the decks after Kevin Saunderson, and then Dubfire played as the sun set. Still nothing?
No to worry. Memories of even the most impressive DJ sets start to blend together over time. That's why we're here – to remember for you. Truth be told, I remember everything; paying rapt attention to the details of live performances, as well as numerous artist productions, comes with the Editor job description. While always being swithed-on may sound like a burden to some folks, it is in fact a delight to say this: I clearly recall seeing Mark Kinchen spin everywhere from We Are FSTVL in Essex, to various haunts in NYC, and just this past March, during MMW once again. But in 2018, the party to remember has become MK's very own Area 10.
Known for the better part of his career as a hit-making producer, find out how this month's cover star keeps evolving, bending rules, retaining new information and applying it to what he loves – his craft. Now a star-status jockey as much as he is composer, MK continues to spread his sonic wings a bit wider with each new move (pg. 21).
It's no surprise MK's latest standout track, '17', was nominated for DJ Mag's Best of North America Awards, along with four other tracks that rocked the scene this year. Find out who snagged the top spot - along with the other winners, all of whom are revealed in this issue (pg. 27). Recognizing and celebrating the artists who break boundaries and push the underground forward, making a difference that can be felt, are the drivers behind the Awards. They are, after all, reasons for making music in the first place.
And for those who don't remember every set, track, or momentous musical occasion, DJ Mag shall remain resolute in our mission to turn up, retell and catalogue each step of dance music's journey.
SARAH POLONSKY EDITOR