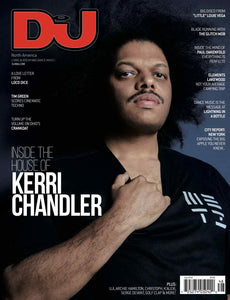 Digital Edition
Music tends to fly at me from every angle. Promo deliveries turn up in my inbox at the sonic equivalent to roughly 138bpm.
They are sent from artists, managers, publicists and labels via text, WhatsApp, Facebook Messenger, Twitter DMs and the list goes on. Selecting who to feature when so much information pummels like a boxer pinned against the ropes, must be tactical. Both bedlam and a blessing, those who keep getting back on their feet, those who listen to everything out there and those who keep testing out new maneuvers will be the ones to survive a long, fruitful career in the biz.
It's not so dissimilar to the many veteran spinners in this issue. A big papa of house still packing punch, our cover star Kerri Chandler has been in the game fordecadesasaperformer,producerandfounderofmultiplelabels(pg. 21). The same "get up and fight" tenacity applies to other renegade talents featured in the pages to follow such as "Little" Louie Vega (pg. 27), The Glitch Mob (pg. 33), Loco Dice (pg. 41) and Paul Oakenfold (pg. 63).
Don't worry about falling flat -that part is inevitable. What defines a great fighter is their ability to keep getting up. Number one hits come and go, but staying relevant - that's a true knockout.
With a bit of time, training and perseverance you might also fly one day. My inbox will be ready.
SARAH POLONSKY
EDITOR