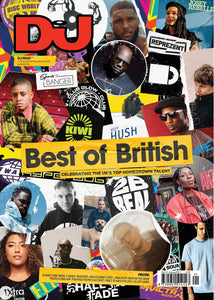 There's a certain bittersweet irony that our special Best Of British issue hits the shops just as the UK fully leaves the European Union. Freedom of movement legislation has already made it harder for UK DJs and clubbers to travel to the EU to play or party, and for UK-based dance music fans to hear some of their fave European DJs on home soil in 2021. Sold off the back of scaremongering about immigrants fleeing poverty- stricken or war-torn countries, the freedom of movement section of Brexit is, arguably, just one part of this colossal act of self-harm that — coupled with the pandemic's devastating effects on the music industry — is going to hit our dance scene hard. But we just have to get on with it, I guess.
It's ironic, because the UK music scene is so vibrant and creative and successful BECAUSE OF immigration. Without it, the country would still be funk-less, starchy and grey.

It's thanks to many children of the Windrush generation of immigrants that the foundations of much of our scene were built by Black pioneers. Soundsystem culture, brought in from the Caribbean, was crucial to the development of several different genres like jungle/drum & bass and dubstep. And the arrival of Irish people, Asians, Africans, eastern Europeans and so on at different times in British history has enriched UK culture immeasurably.
The Britain of today is a multi-cultural melting pot — inclusive and diverse — where sounds and styles constantly cross- pollinate. The children and grandchildren of many of those making a new life here have gone on to be pioneers and success stories in UK music. For instance, if Carl Cox's parents hadn't come to the UK from Barbados in the 1950s, we wouldn't have had this fantastic, evergreen global ambassador for our scene. Coxy is just one of those recognised in our Best Of British awards — we profile all the winners from page 22 onwards.
Carl Loben
Editor