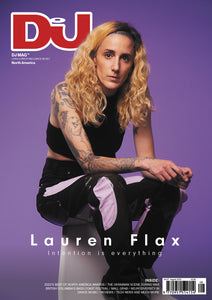 Your votes have been tabulated, the results are in, and the celebrations have begun! After a two-year absence, the Best of North America Awards have returned — and we couldn't be happier for this year's poll winners, who are some of the very best that this continent has to offer. With categories for Best DJ, Best Producer and Best Label, among many others, it's a pretty good bet that some of your favorites came out on top.
In this issue, we put a spotlight on Lauren Flax, who topped an incredibly worthy list of fellow nominees — DJ Bone, DJ Deeon, DJ Minx, and Tim Sweeney — to win the coveted Underground Hero category. Like most open-minded artists, Flax's career path hasn't exactly followed a straight line. Moving from Detroit to Chicago to NYC, Flax's stylistic changes have taken her from jungle to house, techno, and electro, before finding herself in the midst of the dance-rock scene of New York in the '00s — at which point she got to work creating gorgeous downtempo material as one half of CREEP. For the past few years, she's been busy perfecting her own brand of jacking acidic techno, honing in on her truest sound and truest self. Flax is also a hero in the truest sense of the word: Among her forays into activism, she co-founded Last Night A Deejay Saved My Life, a harm reduction program fighting the opioid overdose crisis within nightlife and beyond.
As always, there's plenty more within these pages as well. There's a chat with the Aussie DJ/producer Mall Grab, for instance, who's worked his way through some rough patches to conjure up a fantastic new grimetinged LP; there's a heart-rending look at how the Ukrainian music scene is weathering the ravages of war, as told by those on the ground; and there's an in-depth look at a collaborative album from the talented hands of Danger Mouse and Black Thought. Reviews, fashion, tech news, interviews — it all awaits.
Bruce Tantum
Editor