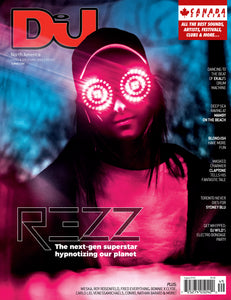 Digital Edition
I was born in Toronto, raised in New York. At age one, I didn't have much of a say in the matter of moving to the States. 
Still, going back for visits always feels like a homecoming – partially because the people are so nice. I also love using my Canadian passport, just because I can. 
The party vibrations of Montreal never let up. Vast mountain terrains make ski fests Quebec's joie de vivre. Thumping city clubs pulsate in Toronto as the scene continues to evolve (pg. 49). If it's Northern Lights you want to see, this issue is dedicated to the Canadian rising artists (pg. 53), record labels (pg. 46) and of course, all the best fests, events and clubs from province-to-province (pg. 65). 
Also hailing from Canada – Niagara Falls to be exact – is REZZ. Even on a global scale, I cannot think of a better representative for Generation Next than our petite cover star, making a big noise. She doesn't merely fit in, but rather sets the zeitgeist, knowingly or not. With her LED goggles-adorned, the supernaturally-charged Space Mom (as fans refer to her) has achieved more at age 23 than most accomplish in a lifetime. To understand her is to lift the veil off today's youth culture and see what comes up. Turns out, like her fellow Canadian countrymen and women, we find a breath of fresh air (pg. 23). 
A place where the political and social climates stay cool even when the temperature is freezing cold; Canada is about to become your new favorite country. They'll let you in even without the Maple Leaf-emblazoned passport, promise. 
SARAH POLONSKY 
EDITOR