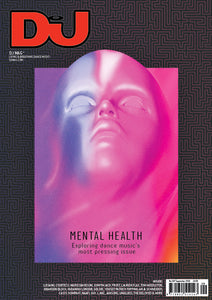 WE NEED TO TALK ABOUT MENTAL HEALTH There's been a sea-change in our scene in the past couple of years. What was once a bit of a taboo subject — it was virtually considered a weakness to talk about it, especially if you're a man — is now being discussed openly at conferences and in workplaces as a result of necessity. We're talking about mental health. Depression, anxiety, suicidal thoughts, sleep deprivation, touring nightmares, drugs and alcohol-related problems, burnout, stress, social media envy, a declining career… all these issues can adversely affect DJs and others in the industry with alarming frequency. Talking about them helps to alleviate some of the problems, but maybe there needs to be some structural changes in the industry as well?
It's great that lots of DJs and their teams are now paying more attention to mental health and wellbeing in various ways. In the run-up to this mental health special of the mag, I took myself off to a mental health first aid training course run by Eclectic Toolbox (above). I've had to talk down friends feeling suicidal in the past, as well as knowing a fair few people who have taken their own lives, and wanted to feel better equipped to deal with situations such as these and other associated mental health issues. DJs are not machines. Years of travelling, lack of sleep, afterparty shenanigans and a bad diet can take their toll on even the most successful, protected artists in our scene. The occasions when I've done back-to-back international DJ gigs have given me renewed admiration for the DJs who relentlessly tour week in, week out.
The tragic suicides of Avicii, Keith Flint and others have brought mental health and wellbeing topics into sharp focus. We don't want anybody else to die, and bottling up these issues and not talking about them is doing nobody any favours. For heaven's sake please talk to somebody if you're feeling down. There are some contact numbers on page 85 of this mag for various organisations who can help — if you need it. And I hope you find some of the features in this special issue enlightening. Nobody's saying don't have any fun. But we all need to look after ourselves a bit more — and each other.
CARL LOBEN
Editor