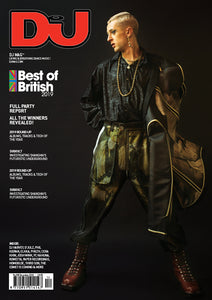 Welcome to the world of tomorrow... or 2020, at least. A new year has arrived — a whole new decade, in fact — and I hope this first edition, our 601st, gets things off to a positive start for you.
Denis Sulta fronts our magazine this month. The inimitable and downright lovely Scotsman scooped the Best DJ gong at our Best Of British awards in December, which, as you'll read, was apparently a dream come true. Congrats again to him, and to all the winners on the night, which took place at The Steel Yard in London, and was for me personally (and many others I spoke to at the event) the best one yet.
I bloody love the Best Of British — after the big public poll of the Top 100 DJs, it's a chance for us here in the office to celebrate some homegrown talent we've been rating throughout the year, picking nominations which then go out to a public vote. While shouting about 'British' things tends to have horrible nationalist connotations these days — and likely will even more so af ter this recent general election — our awards generate a really positive buzz among the industry, and serve as a reminder that it's possible to be proud of things without being a total dick about it. Check out all the winners' profiles from page 29 onwards.
Also this issue we see how legal cannabis-derived supplement CBD is changing drum & bass (p60), chat with Squarepusher about his grand return (p77), find out how the CruCast gang are re-energising bassline (p96), and meet the future stars of electronic music in our annual Ones To Watch feature (p69). As we head into 2020, the threat of Brexit is looming large, many in the UK face uncertain futures, and there's a deeply worrying number of reports of aggression towards people perceived to be 'not British'. Now more than ever it's important for us to stay positive and united as a community, stand up to hate, and keep spreading the inclusive message that's been so central to our culture. Best of luck with your resolutions, and from all here at DJ Mag: happy New Year!
BEN HINDLE
Deputy Editor