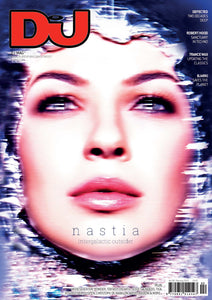 Printed Edition
The year is starting to fly by already, and we're already making plans for the summer — when it'll be a bit warmer than it is now, hopefully! We've got Nastia on our cover this time around, looking like she's stepped straight out of a sci-fi film. The Ukraine-born spinner is a wicked techno DJ who has been steadily rising through the rankings on her own terms over the last decade or so.
Because of her outspokenness, though, Nastia is sometimes branded as 'controversial'. And indeed, the times I've met her, she has said some fairly bluntly contentious things to me in private, which if I'd repeated in print could've adversely affected her career. It's like she sometimes speaks with no filter, and certainly doesn't seem to have had 'media training' of any sort. But then why shouldn't she speak her mind?
Whether you agree with her or not, Nastia makes some interesting points about the industry and the lifestyle of an international touring DJ — as I'm sure you'll agree (page 20). Elsewhere in this issue, we celebrate house stalwarts Defected reaching their 20-year milestone (p30), and run features with a varied selection of quality artists like Trance Wax (p38), Robert Hood (p46), Powder (p58) and Bjarki (p60). Game Changer is possibly the first ever house record, Jesse Saunders' 'On & On' from 1984 (p64), and we've also got all yer genre review pages from our resident experts, a wide selction of new artist features, a poppin' live reviews section, our on-point Tech section, and tonnes more. Enjoy!
CARL LOBEN
Editor