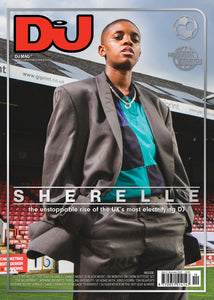 Our cover star for the December issue, SHERELLE is all about bigging up those in her wider community. She may be the most exciting DJ in the UK right now — her tune selection and energy behind the decks are immense — but she's also constantly elevating those around her: labels, DJs, producers, people in her crew. Read all about her positive attitude and footwork/drum & bass genre-traversing from page 22 onwards.
Also in this issue, DJ Mag writers pinpoint significant themes and music from the year in our 2020 round-up (p38), while elsewhere we spotlight people doing great things like Jasmine Infiniti (p46), Tim Reaper (p60) and the excellent Butterz brand (p54).
And on page 48 we catch up with some of the Black artists and organisations we spoke to back in the summer for our Dance Music Is Black Music special issue to see what's changed over the past six months.
The issue is packed with a load more goodness too, including: At Home With Joris Voorn in Amsterdam; Selections with High Contrast; DJ Godfather in the Hot Seat; Get To Knows with Ellie Prohan, Martyn Bootyspoon, LP Giobbi and KMRU; Meet The MC with south-east London rapper Le3 bLACK; Ray Keith's 'Terrorist' drum & bass tune from 1994 under the name Renegade is this month's Game Changer; 2 Bad Mice tells us their favourite releases from seminal d&b label Moving Shadow that inspired them to launch the new Over/Shadow label; More Time Records is the Vital Label.
Our new Music section has input by Ransom FA, DJ Delish, Sharda, Yazz Ahmed, Posthuman on acid, DJ Ace on new R&B star Fousheé, columns on Dublin electro and home-listening techno, plus all your usual singles, albums and comps reviews.
Our new look Fashion section focuses on Teki Latex and Keep Hush this issue, while the Tech section has our 2020 gift guide, In The Studio with Channel Tres, a Beginner's Guide to Reverb and more.
Finally, last but not least, house music diva Ultra Naté answers our Lucky Seven questions on music that she treasures. It's another bumper issue - order your copy today.