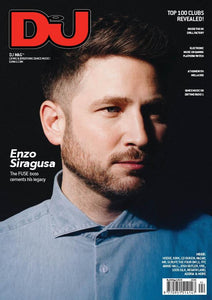 Printed Edition
It's hard to navigate truth and best behaviour through this global Coronavirus Crisis, which has really come on top during the past few weeks. Clubs have shut, tours have been cancelled, festivals postponed. With incomes decimated, it's a worrying time for our industry, and it's caught many on the hop — not least us here at DJ Mag. Most of this issue was done before the crisis hit Europe hard, and while it might seem a strange time to release our Top 100 Clubs results (page 35 onwards) — when many of these clubs will be temporarily closed — we have to hope that our scene will be able to return to something approaching normality over the next few months. In the digital rollout of these results we'll be encouraging people to vote for a local charity of each club's choice — or even the club itself, if necessary.
We've got hard-working FUSE man Enzo Siragusa on the cover this issue (page 24), and ace features on BBC Radio 1 playlisting more dance music again (p84), electronic music people using video gaming platform Twitch (p90), an inside look into the hub of a lot of drill music videos (p100), and lots more. Hope you enjoy it.
Now some final thoughts. A few DJs have been getting called out on social media for moaning about gig cancellations, when lots are probably in a far better financial position to ride out the shutdown than others in the industry — let alone low-paid supermarket workers, healthcare professionals and so on.
Indeed, I'd like to think that some high-earning DJs are giving back to the community in a similar way to what some highearning professional footballers have been doing. Our scene is imaginative, caring, creative — we all need to all pull together during these difficult times.
Look out for your elders. Buy or make music. Stay safe. Selfisolate,
if appropriate. We will get through this in the end.
CARL LOBEN
Editor