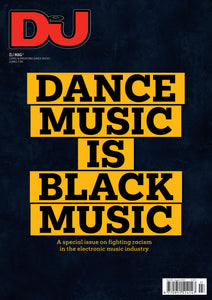 Let me begin by saying, welcome back. When we last published a magazine, four months ago, the world was a very different place. "Unprecedented" — that's the word everybody insists on calling the events that have transpired during our hiatus. It doesn't do any of it justice, however. COVID-19 has ended lives and destroyed livelihoods, and affected all of us in ways that we will have to reckon with for months and years to come.
Simultaneously, though, a movement for change has swept the globe. It is tragic that it took the death of George Floyd on 25th May 2020, and the global outcry from the Black community after, for so many to wake up to how broken and unjust our society is. We've seen it before so many times: with Ahmaud Arbery, Breonna Taylor, Philando Castile, Tamir Rice, Trayvon Martin, and countless others; going way back, before living memory.
In electronic music — a scene pioneered by Black artists, expanded throughout the decades by Black artists, and, to this very day, pushed to its very best by Black artists — complicity in systemic racism is rife. In our own sector, the media, DJ Mag and other dance music publications have not tried hard enough to fight against racism.
To tackle the issue head on, we have dedicated the main feature section of this magazine to amplifying Black voices from our scene (page 21 onwards). It has been a learning process for all of us at DJ Mag, and will continue to be. But we must abandon our egos, listen, and action change — something we have set out to do with our company pledge (p59).
On behalf of myself and all the DJ Mag team, I would like to personally thank all of the Black artists and writers who have contributed to this issue, especially at such an emotionally draining time.
I hope that the feelings and ideas our contributors have shared will cause you, the reader, to reflect on the part you play, and inspire you to challenge yourself and others to make a change.
BEN HINDLE
Acting editor