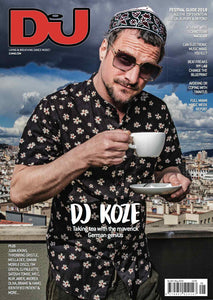 It's another jam-packed issue, covering the merry merry month of May - a time when our thoughts turn towards summer frolics and what festivals we're gonna be going to. There are so many festivals now that it pays to plan ahead, and our in-depth festival guide - starting on page 37 - provides you with all the info you need to make informed choices.
Festivals are generally brilliant, a chance to catch loads of great acts all in one place and have a ton of fun in the sun with your pals. With a Glastonbury-sized hole in the calendar this summer, is it worth looking abroad for your festival fix this year? Or does the plethora of UK events give you more than enough choice to satisfy your preferences? Have a look at our guide, and decide.
We've got maverick genius DJ Koze on the cover this issue, as you will have seen. Having loved practically everything he's ever done, I'm particularly glad we've secured the enigmatic German in advance of his ace new album 'Knock Knock' - and just about resisted making the 'tea Koze' joke on the cover!

Elsewhere in the mag we've got an insightful piece on beat-freaks Ivy Lab on the eve of their much-anticipated album (p60); we travel to Dublin to hang with techno don Matador on home turf (p55); we discuss mental health and tinnitus in advance of IMS in Ibiza later this month (p66 onwards); and file our in-depth report from the Miami Music Week a little while ago (p80). We also profile techno originator Juan Atkins (p87) and secure a rare interview with electronic muisc pioneers Throbbing Gristle - including counter- cultural legend Genesis P.Orridge - for our latest Game Changer.

All this, plus yer usual on-point music reviews, technology news and reviews, club info and charts. Why not subscribe via djmag.com to make sure you get a bumper DJ Mag delivered through your door every month?
CARL LOBEN