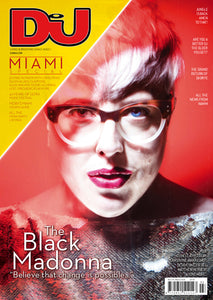 Digital Edition

COMIN' UP:
Bop, Wankelmut, Sky Deep, Essaie Pas, Peggy Gou, Luke Solomon, Appleblim...

ON THE FLOOR
We visit Top 100 club White Dubai, London and Bath's Origins, Berlin's Funkhaus...

MUSIC REVIEWS
Daniel Avery, George FitzGerald, ANNA, Karen Gwyer, The Herbaliser, Mohican Sun...

TECH
NAMM Music Technology Conference, DJ Hell, Marta Salogni, Numark DJ2G02 controller...

WALKER ON BY
20 year old EDM superstar Alan Walker reveals how he's coped with fame...

THE MASKED AVENGER
Claptone, the highest house DJ in the Top 100, on the inspirations behind his album...

ALLIEN DOWN TO EARTH
BPitch founder Ellen Allien talks us through her musical philosophy...

THE GRAND SLAM
Fedde Le Grand tells us what tunes he'll be testing out at the DJ Mag pool party...

MAT.JOE IN THE KNOW
The German deep house connoisseurs discuss their beginnings and the art of B2B...

HIP-HOP DON'T STOP
Detroit hip-hop pioneer Dabrye is about to drop his first album in 12 years...

JUNGLE FEVER
We discover the sensibilities of freeform breakbeats and the new wave of junglists...

DO THE HUMPTY HUMP
CamelPhat chat about their monster hit 'Cola' and their imaginary Italian roots...