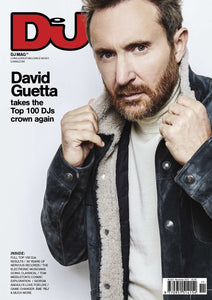 DJ Mag's annual Top 100 DJs poll winners were announced on October 13, with the ceremony taking place at Amsterdam's AFAS Live venue — and we salute David Guetta, who's once again found himself sitting in the gleaming superstar-DJ throne. It's the Parisian producer's second win in a row and third overall, a feat matched only by Martin Garrix, Tiësto and Armin van Buuren. Which puts Guetta in some rather rarified company, and why not? After all, he's always been one of dance music's biggest cheerleaders, and he's had a hell of a year. There have been virtual charity gigs at the Louvre and at the Burj Khalifa in Dubai; a string of massive real-world dates spanning the globe; a busy release schedule, with work coming out under his own name,
his Jack Back alias and, with MORTEN, under the Future Rave banner; and collaborations with the likes of Rita Ora, Afrojack and Sia. In short, it's no surprise that his reign continues.
Sure, there are plenty of Guetta naysayers around — haters gonna hate, and success brings them out — but really, it's hard to dislike a guy who still gets genuinely enthused about the dance-music world, and about his place in it, after three-plus decades in the business. Just take a look at his acceptance speech — that's a truly happy man. And to the other top vote-getters — Garrix, van Buuren, Alok, Dimitri Vegas & Like Mike, and the others — there's always next year.
This issue is stuffed with plenty more musical goodness as well. We spoke with the veteran British producer Jon Hopkins about his mesmerizing new album, 'Music for Psychedelic Therapy' — with a title like that, you know what you're getting into, and it's well worth the trip. There's an interview with Moore Kismet, the fantastically talented, teenage crafter of envelope-pushing bass music, and with another young phenom, Decoder, who at age 17 has found himself on techno demigod Jeff Mills' Axis label. You'll also find 10 of French Touch fanatic Tony Romera's favorite tunes, a eulogy for Cabaret Voltaire's late Richard H. Kirk, chats with singular producers Tom Middleton and Giorgia Angiuli, reviews, tech news and more —read on.
Bruce Tantum
Editor