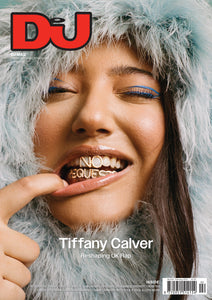 Though this is the February issue of DJ Mag, as we go to print, the new year is still fresh in our minds — as are the excesses and stresses of the holiday period, and the tumultuous year(s) before it. Whether you subscribe to slogans like 'new year, new you', made resolutions or took part in Dry January — or none of the above — now can be a good time to check in with yourself. Recent times have been tough on everyone, and though things seem to slowly be moving in the right direction, it's important to be mindful of your mental wellbeing.
We've spoken a lot about mental health in these pages — particularly in the last few years, when the conversation has become more widespread and public — and we do so again this issue, spotlighting dance music collectives who are helping to put the conversation front and centre from page 32.
This month's cover star Tiffany Calver has had her own issues with mental health — not to mention rampant misogyny, a lack of traditional career path and much more. But through passion and dedication, she's honed her skills and forged her own way — now at the top of the game, hosting BBC Radio 1Xtra's The Rap Show, running a label and club nights and reshaping the rap world along the way. She tells Christine Ochefu her story from page 18.
Elsewhere this issue, we explore the history of legendary LGBTQ+ club night Trade as it turns 30 (p36), find out about the club attempting to power itself through raving (p48), and highlight five ones to watch from the rap world (p52). On that note, you can still listen to mixes from the ones to watch in our January issue online and via the BBC Sounds app, as part of our Radio 1 Dance Presents takeover.
Of course, we've loads more interviews, reviews and tech to keep you going for another month too — so get stuck in.
Ben Hindle
Deputy Editor