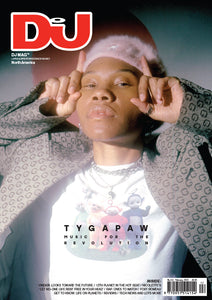 You wouldn't necessarily know it by looking at the lineups of many major festivals, but at its core, dance music is Black music. Without foundational figures like Gamble & Huff, Patrick Adams, Lee "Scratch" Perry, Larry Levan, Ron Hardy, Frankie Knuckles, the Belleville Three or Fabio & Grooverider — just to scratch the miles-wide surface — the music that gets us out onto the dancefloor would be far less vibrant than it is, if it even existed as we know it all. It's a truth that bears repeating this Black History Month, and one that's always worth remembering.
2021 was a topsy-turvy year, to put it mildly — but one of the albums that helped get us through it was 'Get Free' by Dion McKenzie, better known as TYGAPAW. Release at the tail end of 2020, the album was defined by hard-hitting, mesmeric techno that carried multiple messages — of Blackness, of queerness, of transcendence and, ultimately, freedom. Since its release, McKenzie's profile has been on an upward trajectory, thanks in part to a series of high-profile releases and a return to gigging — and there's much more to come, as DJ Mag discovered through a long conversation with this month's cover artist.
What happens when one half of a musical duo walks away, just as major-league success is knocking at the door? In the case of Vindata's Branden Ratcliff, when his erstwhile partner made an unexpected departure after the release of debut album '...With Open Eyes' last year, he made the decision to carry on. It hasn't always been easy for Ratcliff, but he's been finding his way as a solo artist in the months since, and Megan Venzin connected with the now-solo producer to find out more.
There's lots more, of course, like our in-depth look back at Nicollete's 1996 classic, 'Let No-One Live Rent Free In Your Head,' a dive into Man Power's excellent Me Me Me label, a chat with the bass-loving 12th Planet, a conversation with Fort Romeau on the occasion of his first LP in seven years and, as always, our usual full slate of reviews and tech news.
Bruce Tantum
Editor