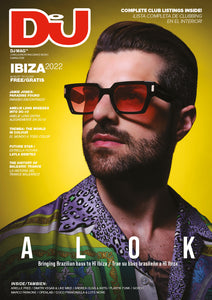 We are halfway through the season and Ibiza is in top gear. The island has already welcomed thousands of holidaymakers and party goers, all looking to put the memories of the last two years behind them. The clubs and events are in overdrive as week in and week out, more revellers descend on the island with an intensity that hasn't been seen for many years. Club culture is booming with new venues and events opening to add to the options of what's already on offer. The electricity, excitement and wonder is rife on the island's streets — Ibiza is back in business.
We have Brazilian wonderkid Alok gracing the cover this issue. The No.4 DJ in the world has been rocking up at the new No.1 club in the world — Hï Ibiza, as voted for by DJ Mag readers worldwide — every Monday to bring his Brazilian bass-influenced sound to the island. We talk to him all about his love for the island, from page 18 onwards. Elsewhere in this magazine we catch up with Belgium's techno superstar Amelie Lens ahead of her new residency at DC-10 (p29); talk all things ANTS with Andrea Olivia (p40); help spread awareness on Coco Francavilla's Ibizabased Posidonia project (p89); and get the rundown on lots of other amazing things happening here on the island.
¡A disfrutar!
Mick Wilson
Editor
Estamos a medio camino de la temporada e Ibiza ha puesto la quinta marcha. La isla ya ha dado la bienvenida a miles de turistas y gente de fiesta, todos intentando dejar a sus espaldas los últimos dos años. Las discotecas y eventos están a tope semana tras semana y cada vez aterrizan más y más turistas a la isla. La cultura de club es floreciente con locales y eventos nuevos abriendo para añadir más opciones a la oferta existente. La electricidad, emoción y asombro están latentes en las calles de la isla – Ibiza ha hecho borrón y cuenta nueva.
Tenemos al niño prodigio de Brasil, Alok, agraciando nuestra portada. El cuarto DJ del ranking mundial ha estado triunfando en Hï Ibiza -el club Nº1 del mundo según los votantes de DJ Mag de todo el mundo- cada lunes para traer su sonido con influencias de bass a la isla. Hablamos con él sobre el cariño que le tiene a la isla, desde la página 18 en adelante. En otra parte de la revista charlamos con la superestrella del techno belga, Amelie Lens, antes de su nueva residencia en DC10 (p.29); nos enteramos de todo lo referente a Ants con Andrea Oliva (p.40); ayudamos a concienciar a la sociedad sobre el proyecto Posidonia de la residente local Coco Francavilla (p.89); y nos pusimos al día de muchas otras cosas interesantes que están ocurriendo en la isla.

¡Disfrutad!
Mick Wilson
Editor