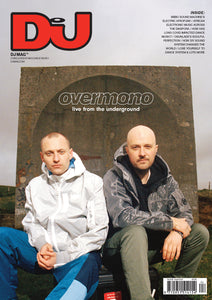 Numerous people in the industry have been banging on about the lack of live electronic acts for years now. In the '90s we were spoilt by having the likes of Underworld, The Prodigy, Orbital and the Chemical Brothers pioneering the medium, plus others such as Faithless, Fluke and Reprazent. What's been noticeable over the subsequent 20+ years is the lack of new live behemoths since. As Lauren Martin details in her excellent feature that begins on page 22, there are a few excellent modern day contenders to line up alongside those hardy perennials. But Overmono — the brothers formerly individually known as Tessela and Truss — are undeniably the live act we need right now. This is their time.
Elsewhere this issue there are lots of great themed features, artist profiles, reviews, tech info, and plenty of the rest of the goodness that you expect every month from these pages. See the Contents list on the previous page for the full rundown.
As DJ Mag went to print, the horrific war in Ukraine has rolled on. It's been heartening to seen how pretty much the whole of our scene has not only stated opposition to Putin's criminal exploits, but has also been taking action to support the Ukraine relief effort. My heart goes out to all those affected by this war. Putin must be stopped. Peace.
Carl Loben
Editor