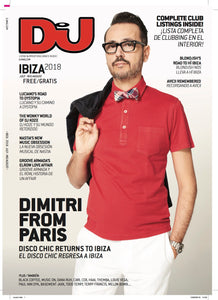 IBIZA'S NEXT MOVE
Ibiza is a place in a constant state of ux. But the old mantra of 'the more things change, the more they stay the same' is being replaced by real, tangible transformations. And we don't just mean Cocoon moving on from Amnesia after 18 years, Cream taking residency at Hï Ibiza or Pacha's impressive refurb.
We're talking about the core of clubbing — the tragic death of Avicii (p59) forcing mental health into the foreground, the #MeToo movement highlighting the misogyny in our culture and the on- going environmental challenges Ibiza faces every summer as millions of us make it our temporary home. From the conversations surrounding IMS at the start of the season, to our interviews with Luciano (p70), Groove Armada (p76) and Blond:ish (p93) — change is on everyone's tongue.

But that doesn't mean we can't enjoy ourselves, and this magazine is the perfect place to start. Suave disco hero Dimitri From Paris (p20) graces our cover while king Koze explains how this summer's Ibiza anthem 'Pick Up' came together from page 36. When it's time to chill, our guide to Net ix's best music docs (p85), as well as Music On's favourite food spots (p97), are all inside.
A more conscious industry is a thriving one, a more aware dance oor a safer one and a more sustainable attitude safeguards Ibiza for the next generation of party-goers. We owe it to ourselves and our party peers to look after each other and the island we love, all while enjoying the best music, food and beaches on the planet. See you front left.
DECLAN McGLYNN, EDITOR
LOS NUEVOS AVANCES DE IBIZA
Ibiza es un lugar de ujo constante. Pero la vieja mantra de 'cuanto más cambian las cosas, más siguen igual' parece obsoleta ya que las transformaciones ahora son reales y palpables. Y no sólo nos referimos al traslado de Cocoon de Amnesia a Pacha después de 18 años, a la nueva residencia de Cream en Hï Ibiza o la increíble reforma de Pacha.
Hablamos del corazón mismo del clubbing: la trágica muerte de Avicii (p.59) ha forzado el tema de la salud mental a un primer plano, el movimiento #MeToo ha versado luz sobre la misoginia que existe en nuestra cultura y los constantes desafíos medioambientales a los que se enfrenta Ibiza cada verano cuando millones de turistas convierten la isla en su hogar temporal. Desde las conversaciones entorno al IMS a principios de verano, a nuestra entrevista con Luciano (p.70), Groove Armada (p.76) y Blond:ish (p.93) los cambios están en boca de todos.
Pero eso no signi ca que no podamos pasarlo bien y esta revista es el sitio perfecto para empezar. El so sticado héroe del disco Dimitri from Paris (p.20) adorna nuestra portada mientras el rey Koze explica cómo se le ocurrió su éxito del verano 'Pick Me Up' en la página 36. Para cuando toca relajarse, DJ Mag te ofrece una guía de los mejores documentales musicales (p.85) además de los lugares favoritos para comer de Music On (p.97) en su interior.
Una industria más consciente será más fructífera, una pista más consciente será una más segura y una actitud más sostenible salvaguardará Ibiza para las próximas generaciones de ravers. Nos debemos a nosotros y a nuestros colegas de esta el cuidarnos el uno al otro y a la isla que tanto amamos, todo mientras disfrutamos de la mejor música, comida y playas del planeta. Nos vemos en el frente.