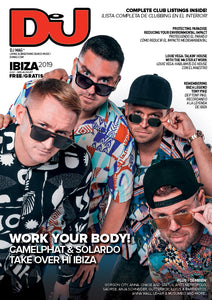 Paradise Lost
Another season is here, and with it the Ibiza carousel continues — new nights are moving on, others moving up, clubs, residents and ambassadors promising the latest ultimate immersive experience. Some are complaining the island isn't what it used to be, while others are truly pushing the boat out for some of the most impressive events we've ever seen on the White Isle.

This year, however, it feels like more pertinent issues have moved to front and centre. As the conversation around climate emergency grows across the planet, Ibiza's unique environmental issues are brought to the forefront — we've done our part in raising awareness with our Leave No Trace feature from page 59, where superstar DJs give their top tips on reducing your footprint on paradise.

Once you're clued up, it's time for some guilt-free partying with CamelPhat and Solardo's new BODYWORKS night at Hï Ibiza (page 20), house maestro Louie Vega (p75), drum & bass dons Chase & Status (p97) and Brazilian techno star ANNA (page 89). We also say goodbye to Ibiza icon Tony Pike in our tribute on page 39, and hello to the return of much-loved radio station OpenLab on page 104. There's also the full listings for the island, the latest party news as well as our yearly guide on where to eat, drink and relax. Welcome back!


Paraíso Perdido
Otra nueva temporada en Ibiza y con ella empiezan los cambios – nuevas noches se incorporan, otras desaparecen, clubs, residentes y embajadores prometen lo último en experiencias en Ibiza, otras se quejan de que la isla no es lo que era y otros se esfuerzan en presentar los eventos más sorprendentes que hayas visto jamás en la Isla Blanca.

Sin embargo este año hay otros asuntos que han pasado al frente de la escena. Así como la conversación sobre el cambio climático se va expandiendo por todo el planeta, la problemática medioambiental en Ibiza sale a la luz: nosotros hemos contribuido en la concienciación con un artículo No Dejes Huella en la página 59, donde los DJs superestrella nos ofrecen sus mejores consejos para reducir la huella de tu paso por el paraíso.

Ahora que ya estás bien informado, es hora de salir de fiesta sin remordimientos con la nueva noche de CamelPhat y Solardo, BODYWORKS, en Hï Ibiza (página 20), el maestro del house Louie Vega (p25), los iconos del drum & bass Chase & Status (p97) y la estrella brasileña del techno ANNA (p89). También nos despedimos del legendario Tony Pike con un tributo en la página 39 y saludamos el regreso de la queridísima estación de radio OpenLab en la página 104. También encontrarás un listado completo de la isla, las últimas noticias de fiesta además de una guía anual de dónde comer, beber y relajarse. ¡Bienvenidos!