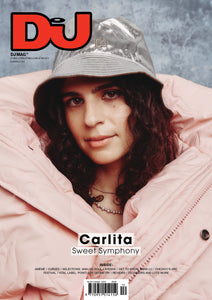 The days are getting shorter, the sweltering temperatures are receding, the pumpkin spice is inescapable — that's right, summer is over and autumn is here. And though seasons may change, clubbing keeps chugging along, no matter the time of year. One person who's been doing a lot of that chugging is Carla Frayman, better known simply as Carlita, a house-loving DJ and producer who grew up in Istanbul but now is a citizen of the high-flying festival world (with homes in Brooklyn and London). Her trajectory was already on an upward ascent, but it was a hook-up with DJ Tennis and his Life and Death label that's pushed in even higher. She's hard at work on completing her debut album — something that will surely raise her profile higher still — but she took some time out to chat with DJ Mag about how she's gotten to where she is today.
In this issue, we also talk to a couple of other artists on the way up. Ayesha, a resident at the singular NYC club Nowadays, has her own debut LP on the way — part techno-centric dancefloor workout, part inner- space head trip, it's a release that will find lots of love. Sticking with the New York theme, Dana Lu is an amazing spinner, revving crowds up with the sounds of amapiano, house, Jersey club, dembow, dancehall and anything else that's got the funk.
On the other end of the spectrum, there's the veteran Curses, yet another New Yorker (though one now based in Berlin) who's spent years perfecting his synthy musical romanticism — which makes him the perfect choice to compile the upcoming 'Next Wave Acid Punx DEUX' for Eskimo Recordings. Further slicing our way through the full spectrum of dance music's possibilities, we talk to Nightmares on Wax, stop by Amsterdam's Awakenings and Chicago's ARC festivals, dive into sampling and dig into the experimentally-minded Pointless Geometry label, along with our usual array of tech news, reviews and more. Now, where'd I put that pumpkin latte?
Bruce Tantum
Editor