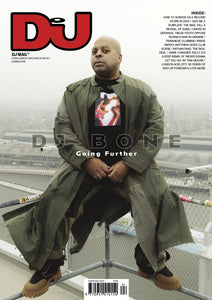 How's your year going so far? Good, I hope. It's an absolute pleasure to welcome DJ Bone to the cover of DJ Mag UK this issue. Eric (DJ Bone), his wife Ahnne and their team have been an absolute pleasure to work with, and the cover feature is fully deserved for someone who's had a slow-burn career, not wavering from what he does best.
Not only has Bone stuck to his guns by making and playing underground techno, but he puts something back into the community too. His work with the Homeless Homies charity has transferred from Detroit to Amsterdam, where he has lived for the past seven years, and his Further parties have been serving up quality music in the Dutch capital over and above the call of duty. He's an international headliner now, but remains humble and kind. We love him.
Elsewhere this issue, we report from Tbilisi in Georgia, where the youth of all nationalities — including Russians — are uniting to put on fund-raising parties for causes resulting from the ongoing, terrible war Russia is waging in Ukraine. The influx of displaced Russians into Tbilisi has its own issues, but the ultimate takeaway is that not all Russians are pro-war, and many would speak out more if their safety and freedom wasn't in danger for doing so. Electronic dance music is all about peace, unity, love and having fun, and sometimes our sprawling international scene can literally change lives.